This Post written by Mary Aalgaard and originally published on her Play off the Page Blog
Quote of the Day:  Figure out what is in you and how to make it sing. Robert Hass as he spoke to an audience at the Central Lakes College in Brainerd, MN. We were a mixed group, some college students, instructors and employees, and sprinkled throughout the audience a few local poets and fans of poetry. I love listening to a poet read his, or her, own work. It's like listening to a musician's original composition, or watching an artist paint. The mood of Mr. Hass' reading was a bit somber. He mentioned the passing of fellow poet and friend Galway Kinnell. Maybe that beginning quote was Robert Hass quoting Galway Kinnell. Maybe it was a message for all of us, young and old, to do something with our gifts and talents. Most definitely, Mr. Hass was telling us to not only pay attention to how the world is treating us, but also to pay attention to how we're treating this good earth. Hass writes often about nature, the small things that could go unnoticed, and he commissioned the younger generation in the audience to take care of this planet Earth. Our own generation has left some nasty messes to clean up.
I liked hearing Hass' short and vivid poems, some in Haiku style, some not. In one he describes the scene of coming down to the ocean (he grew up on the California coast), down through the mustard fields, to stand on the shores and watch for whales. Then, no whales. He talked about how he and his son had gone out for ice cream one evening after one of Hass' readings. They drove with their ice creams down to the dump to watch for bears. Then, no bears. I thought of our upcoming deer hunting season. All the hunters dressed in orange, huddling in their freezing cold deer stands, gazing endlessly at open fields and forests. Then, no deer. But, sometimes, we do have sightings of whales, bear, deer, or something unexpected in our wanderings. Those are the things that spark our imaginations and help poets write poetry, painters create images, and artists of all kinds strive to recreate and preserve.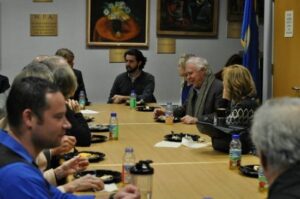 Thank you, Mr. Hass, for coming to our little town in the North Woods. Thank you for the thoughtful reading and reflections on life and the reminder to find what is in us that makes us sing, and then to write our own song!
More pictures of Robert Hass' visit are on my Play off the Page facebook page.
Go. Create. Inspire!
Mary Aalgaard is a freelance writer, blogger and owner of Play Off the Page. Her words stretch across the globe through her blogs and articles. Mary is also a playwright who works with both children and adults to create original dramas. Learn more about Mary and her reviews at www.playoffthepage.com