Spring is here! It's time to write! Four Writing Workshops offered in the Brainerd Lakes Area
The Brainerd Public Library and The Crossing Arts Alliance are offering spring workshops for all levels of writers in a cross section of topics. Class instructors are Angela Foster and Candace Simar.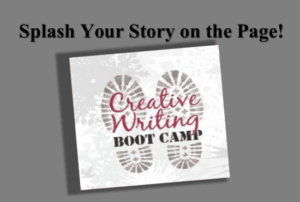 Boot Camp for Writers
Splash your Story on the Page!
When: Saturday, April 14, 2018, 10 a.m. to 4 p.m.
Cost $25 for Crossing Arts Members, $30 for Non-Members
Where: Northern Lakes Living Community Room, 8186 Excelsior Road, Baxter MN
Instructors: Angela Foster and Candace Simar
CLICK HERE TO REGISTER ON-LINE
What:
Join the Farm Girls for a fun day of writing. Together, we'll capture that perfect image to hook your reader and practice ways to improve your prose with vivid details, imaginative settings, crisp dialogue, and dynamic action.
Bring your favorite pen and a laptop or notebook. Appropriate for all writing levels and genres.
This creative-writing workshop is under the direction of award winning author, Candace Simar (Abercrombie Trail Series) and creative-writing teacher Angela Foster.
Workshop will take place in the beautiful community room at Northern Lakes Living. There is room for 30 writers on a first come first serve basis. Registration begins Monday, March 26 by phone, Call 218- 833-0416 or On-line at www.crossingarts.org
There will be a one hour break for lunch. Lunch not provided.
Cost is $25 for The Crossing Arts Alliance members and $30 for Non-members. This activity is made possible by the voters of Minnesota through a grant from the Five Wings Minnesota Arts Council, thanks to a legislative appropriation from the arts and cultural heritage fund. Thank you Five Wings Arts Council

Three FREE Writing Workshops at the Brainerd Public Library
Memoir: April 25
Tame the Memoir Monster: What to Put In, What to Leave Out
When: Wednesday, April 25 from 6-8 p.m.
Where: Brainerd Public Library, Large Meeting Room
Class instructor: Angela Foster
Cost: FREE
What:
Alfred Hitchcock said, "Drama is life with the dull bits left out." That's a good lesson for memoir writers. But how do we know what is important enough to leave in and what can be left out? During this class, we'll discuss memoir and do some quick writing exercises. You'll leave with a better understanding of story and how to hone it down to the best it can be.
CLICK HERE TO REGISTER
BUSINESS: MAY 2
What: Business Writing – How to Get your Point Across in a Clear and Interesting Way
When: Wednesday, May 2 from 6-8 p.m.
Where: Brainerd Public Library, Large Meeting Room
Cost: Free
Class Instructor:  Angela Foster
What:
During this fun and fast paced class, we'll read and discuss actual newsletters, blogs, and letters to the editor. We'll tear them apart and put them back together again to create interesting reads. You'll walk away from this class with an understanding of the pitfalls to avoid and the skill to create work your readers will enjoy.
RESEARCH: MAY 9
Workshop: Writers' Workshop: Dig Deeper—Mining Research Details to Enhance your Story
When: Wednesday, May 9 from 6-8 p.m.
Where: Brainerd Public Library, Large Meeting Room
Cost: FREE
What:
This 2-hour class will investigate ways to find pertinent research, how to filter through the excess data and how to integrate the best details into your story to bring it to life. Bring a notebook or laptop.
This project is funded in part with money from the vote of the people of Minnesota on November 4, 2008, which dedicated funding to preserve Minnesota's arts and cultural heritage.
For more information call the Brainerd Public Library  (218) 829-5574
Angela Foster is a poet and memoirist who teaches creative writing at the Loft Literary Center in Minneapolis. Angela received a Loft Literary Center Excellence in Teaching Award and a writing residency at the Madeline Island School of the Arts in July 2017. The New York Mills Cultural Center granted her a writing residency in November 2017 and she also received a Minnesota State Arts Grant in 2017. Other awards and recognition include a hand-carved chair and the title "Bard" from the Cambria Eisteddfod competition in New Ulm, MN, a performance by the Petaluma Readers Theatre in California of her memoir piece, Brat, and the selection of a haiku written by Angela for "Poetry on the Sidewalk" at the Pine City library.
Angela served as co-editor of County Lines: 87 Minnesota Counties, 130 Minnesota Poets, published by Loon Feather Press (2008) and holds a Master of Fine Arts Degree in Creative Nonfiction from Pine Manor College in Boston, MA.  She co-authored FARM GIRLS with her sister, Candace Simar, released by RiverPlace Press in 2013.
Candace Simar is an award-winning Pequot Lakes author. Candace has published 6 historical novels (Abercrombie Trail, Pomme de Terre, Birdie, Blooming Prairie, Shelterbelts and Escape to Fort Abercrombie) and a book of short stories (Dear Homefolks). She also co-authored  Farm Girls with her sister, Angela Foster.  Simar has received the prestigious Spur Award, a Willa Literary Award for Historical Fiction and was a Midwest Book Award Finalist.