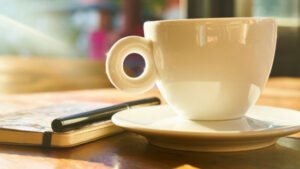 In 2009, Abercrombie Trail by Candace Simar changed the course of my career.  I loved this book. I devoured every page. It became the catalyst to Blue Cottage Agency.
Abercombie Trail, a debut novel by a local writer, was already getting the word-of- mouth buzz around town when our book club made it our November pick. With the fire roaring in the living room at Lynda's house, Candace visited our discussion group. Excitement filled the room to have a real author present to discuss her work. She told about her research and writing, and another book soon to be published. She shared her inexperience in publishing and frustration with book promotion.
 I knew marketing, but nothing about publishing. A week later, over a cup of coffee in my living room, we decided to work together.
The digital age was obviously the wave of the future. I began studying the publishing and book industry like mad. I explored Facebook, Twitter, Linked-In and found someone who built great websites. I researched traditional publishing versus self-publishing.
We forged ahead together. We learned, sometimes failed, put effort into things that didn't work and were surprised by small efforts that yielded good results. Our marketing strategy evolved into a plan that worked for her readers.
Candace, now an award-winning author of 8 books, is no longer just a client, but a dear friend. She has established her platform, developed a website, found a niche market and connected with her readers.
Since then, Blue Cottage Agency has assisted hundreds of writers, publishing companies and organizations to develop individualized promotional strategies.
I have learned some important things:
An author needs to write a good book and let people know it exists.
Writers with a passion to write, must write. The world needs many voices to document story and history from unique perspectives. There's room for everyone.  
Success means different things to different people. Promotional efforts should match the author's individual needs.
Self-promotion doesn't have to be expensive to be effective.
 Now more than ever, authors need to take the time to write exceptional books and establish their online portfolio and book marketing strategy. 
Contact us today! We are here to support you.