FREE PUBLICITY WORKSHOP FOR ARTISTS
You've worked hard to develop your craft, now get noticed by the press. Learn how to gain the attention of local, regional and national press by establishing your artist PR toolbox, understanding what is "News," best practices for pitching and when to bend the rules of PR.
Date: Saturday, August 29, 10:00 am -12:30 pm
Online Platform: Zoom
Presenters: Alison Bergblom Johnson and Krista Rolfzen Soukup, Artist Career Consultants, Springboard for the Arts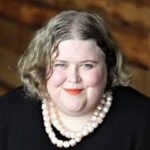 Alison Bergblom Johnson is an artist whose work often approaches uncomfortable, difficult subjects. Her genres and media include storytelling, creative nonfiction, installation, and collage, and her work explores gender, disability, and sexuality. Some venues she's performed at include Patrick's Cabaret, the Northfield Artists Guild, and Strike Theater, in addition to the Minnesota Fringe Festival. Flock, Diverse Voices Quarterly, and Minnesota Public Radio's website have published her essays. alisonbergblomjohnson.com
Krista Rolfzen Soukup is a literary publicist and owner of Blue Cottage Agency. She has a passion for helping writers and authors successfully promote their work and establish their platform. Through her expert guidance, knowledge of the publishing industry and vast experience, she has successfully supported writers and authors across the country and Europe. She holds a Bachelor of Science degree in Business Administration and Marketing. https://www.bluecottageagency.com/
Tuition: Free. CLICK HERE TO Register below and receive the Zoom meeting details. This event can be attended for free using a cell phone or landline number and does not require videoconferencing equipment or an internet connection. If you have any questions, call 651-292-4381 or email info@springboardforthearts.org.