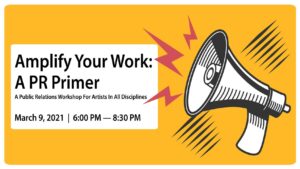 Amplify Your Work: A PR Primer
March 9, 2021 @ 6:00PM — 8:30PM Eastern Time (US & Canada)
A Public Relations workshop for artists in all disciplines
As an artist, you work hard on developing your craft, this workshop will teach how to get noticed! Led by two publicity experts, this PR workshop will teach you how to gain the attention of local, regional and national press by establishing an artist PR toolbox; understand what is 'News"; best practices for pitching; and when to bend the rules of PR. Workshop activities include discussion, writing, small group pitching and feedback. This workshop also includes downloadable Workshop outline, Workshop Worksheet and a Sample Press Release.
The workshop will be conducted via Zoom. The link will be sent via email upon purchasing tickets.
Instructors: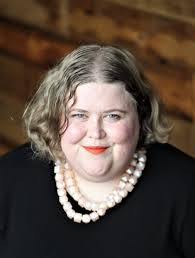 Alison Bergblom Johnson, is a multidisciplinary artist; performance, lit, collage, and installation are part of her practice. Her work engages with such topics as sexuality, mental health, and trauma. Her PR Services include development of story hooks and angles attractive to the press; conceptualizing a project to be attractive to the media; press release and press list creation.
agalison@alisonbergblomjohnson.com alisonbergblomjohnson.com 612-388-9564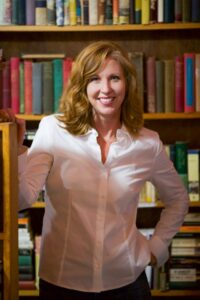 Krista Rolfzen Soukup is a well-established publicist in the arts community. Through her expert guidance, knowledge of the arts industry and vast experience, she has successfully supported artists across the country in promoting their work. This year, her clients were featured on the Oxygen Channel, CBS Morning with Gail King, Fox News with Shepard Smith, NPR, BBC, Essence Magazine, USA Today and major newspapers and news sources across the world.
https://bluecottageagency.com krista@bluecottageagency.com 218-828-4717