Author Talk with Award Winning Authors W. Michael Farmer and Manuela Schneider. Tuesday, February 8 at noon Central/ 10 Pacific/ 11 Mountain/1 p.m. Eastern/ 7 p.m. Germany.
Join in on a conversation between these riveting authors and their books The Odyssey of Geronimo: Twenty-Three Years a Prisoner of War, A Novel by W. Michael Farmer Arma del Diablo: The Colt of Destiny by Manuela Schneider.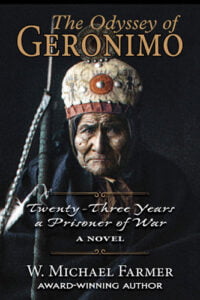 "The Odyssey of Geronimo: Twenty-Three Years a Prisoner of War, A Novel" (Five-Star Publishing) is based on history and Apache culture, but told through his eyes using the truth from fiction, is a revealing epic of his strengths, weaknesses, and character. As a prisoner of war twenty-three years, Geronimo escaped being hanged by civil authorities in Arizona, rose to become a national "superstar," and became an astute businessman. During his captivity, Geronimo fathered two children, lost three wives, and married two more. When he died from pneumonia after sleeping drunk all night in a cold rain, he had a small fortune in a Lawton, Oklahoma, bank from selling his autographs, autographed pictures, headdresses, bows and arrows, and other mementos. He was hated by some of his own people, loved by others, but respected by all"–
"Arma del Diablo: The Colt of Destiny" (Wolfpack Publishing)  Michael Kent enjoys his life in sunny California as one of the world's most sought-after experts on antique firearms. A new commission promises to be the most lucrative so far, but it turns out to be the most dangerous and terrifying job of his career. When the mysterious Gorgo Conway hires Michael to search for the Colt 45 of legendary pistolero Johnny Ringo, Michael Kent has no idea that the hunt for the Peacemaker would lead him from the archives of Colt Firearms Manufacturing across continents right into the center of the Catholic church. Michael´s research reveals shocking, deadly murders connecting the six-shooter to repeated tragedies across decades. But how is that possible? The truth behind Johnny Ringo´s gun challenges Michael´s faith and sanity in a race against time. His only allies are two Benedictine monks and their wisdom concerning a deadly curse.
LINK FOR EVENT: