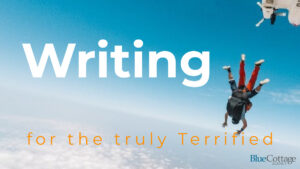 Writing for the Truly Terrified! Join us for a two hour fun and friendly writing workshop
Thursday, April 28 from 10 to noon, CST/11-1 EST/8-10 a.m. PST.
Instructor Candace Simar, Award Winning Writer
Do you want to write, but don't know how to begin? Ten percent of the population has a story they'd like to share, but few actually get it down on paper. I have good news for you. Instructor and IAward Winning Author Candace Simar began studying writing in her mid-forties while working full time as a nurse. Six historical novels and three short-story books later, she is living proof that writing can be learned. This hands-on zoom class is for you. Together we'll investigate two basic elements of creating a story: Show Not Tell; and Two Dogs One Bone. Bring a notebook, pen and a cup of coffee. Don't worry, the class will be friendly and fun.
 REGISTER: CLICK HERE: Cost $40