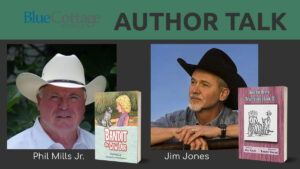 Join us for an Author Talk with Award winning writers Phil Mills Jr. and Jim Jones, Tuesday, June 14 from 12:00 – 1:00 p.m. CST/ 11:00 to 12:00 p.m. MST/10.00 a.m. PST/1:00 pm EST
"Bolo the Brave "by Jim Jones:
After their encounter with the mountain lion, Charlie, Bolo and Grandpa join a wagon train heading west. Charlie meets Chance, who is confined to a wheelchair. When Charlie sees a bully, Jed, making fun of Chance, he stands up to him. With Bolo's help, Jed backs down but he's angry with Charlie. Chance doesn't appreciate his assistance and tells Charlie he could have handled the situation. Chance and Bolo take a liking to each other and begin playing together, which leaves Charlie feeling lonely and confused.
When the wagon train gets bogged in mud due to heavy rains, Jed wanders off and discovers an arroyo with a nest of rattlesnakes at the bottom. When the edge of the arroyo collapses, he slides down by the reptiles. Terrified, he yells for help. Faced with this life-threatening situation, the boys must set aside their conflicts and work together if they hope to save Jed.
About Jim Jones:
Jim Jones is the author of five novels set in northern New Mexico in the late 1800s: The Lights of Cimarron, The Big Empty, and the Jared Delaney series, including Rustler's Moon, Colorado Moon and Waning Moon. His novella, "Scarecrows," appeared in the Five Star Anthology, Perilous Frontier. His sixth novel, Halo Moon, will be published in July of 2022 by Five Star Publishing. His songs and books are about the West … cowboys, horses & cattle, cattle rustlers, the coming of the train … songs about people and land, rivers and mountains, the beauty of the Western sky. With the 2022 release of his album, "Words & Music" along with the 2021 release of his album, "Good Days Are Comin'," Jim has produced twelve Western/Folk albums. His book, "Bolo the Brave" was a Western Writers of America Spur Finalist in the Storyteller/Illustrated Children's Book category. He was the Western Music Association's 2014 Male Performer of the Year and winner of the Western Heritage Wrangler Award 2022 Outstanding Original Western Composition, the International Western Music Association 2019 Song of the Year, Academy of Western Artists 2016 Western Song of the Year and Western Writers of America 2013, 2017 and 2021Spur Awards for Best Western Song. Jim lives in Rio Rancho, New Mexico.
"Bandit the Cow Dog" by Phil Mills Jr. Spending the summer on her grandparents Wyoming ranch was a new and exciting opportunity for ten-year-old Mary Andrews. She lived in Denver, Colorado, and being around horses and cattle every day was a different experience. Having to do daily chores like gathering eggs and keeping an extra-close eye on her dog Princess was also new. She found it hard enough to just make her bed and keeping her clothes picked up.
But life took a dramatic turn for the young girl when she was given her first horse. Mary had never ridden before and there was a lot to learn. Thankfully, Bandit, the ranch cow dog, was around to watch over her. Bandit may have been retired, but he still liked herding chickens and trying to corral the ranch cats. Mary would soon learn having a horse was a lot different than having a dog. Along with such ownership came greater responsibilities. That would also mean learning to admit your mistakes, no matter how difficult, and then accepting the consequences, especially when Bandit knew the truth.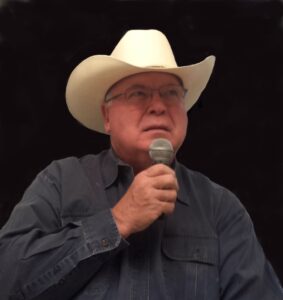 About Phil Mills:
Jr. Phil Mills, Jr. is the award-winning author of the Western novels Where a Good Wind Blows and Where the Wildflowers Dance. He's also known for his children's books Bandit the Cow Dog, Mud Between My Toes, and Scooter: The Cow Dog.
Mills is a longtime member of the Western Writers of America (WWA) and currently serves as WWA Vice President.
In 2010, he was a WWA Spur Award Finalist Award winner for Best Western Audiobook for his work of historical fiction entitled Where a Good Wind Blows. Mills also received a WWA Spur Finalist Award in 2021 in the category "Best Storyteller/Illustrated" for his children's book Bandit the Cow Dog. This book also earned a 2021 Will Rogers Gold Medallion for "Western Fiction – Young Readers/Illustrated".
Phil's most recent endeavor was his contribution to an anthology of Western mystery short stories/novellas entitled Perilous Frontier released in November 2021.
The third book in his "Good Wind Western Series" entitled Where Cold the Waters Run is currently being written. He's also currently working on a book of short stories, two new children's books, a book of inspirational poetry, and a new novel entitled, The Laramie Letter.
Mills is a member of the Montana Historical Society and is a lifetime member of the Custer Battlefield Historical & Museum (CBHMA). He is also a member of the Oregon-California Trails Association (OCTA) and the Society of Children's Book Writers and Illustrators (SCBWI).
Phil is an avid fan of professional rodeo and in 2016 attended the Chad Nicholson Rodeo Announcer Seminar in Fort Worth, Texas. He spent the summer of 2016 and the early spring of 2017 announcing rodeos in Bandera, Texas, "Cowboy Capital of the World".
His experiences include being a small town newspaper editor, farm magazine editor and work with two major advertising/public relations agencies. Phil and his wife, Sonja, live west of Fort Worth, Texas.
Topic: Author Talk with Phil Mills Jr. and Jim Jones
Time: Jun 14, 2022 12:00 PM Central Time (US and Canada)
Join Zoom Meeting
https://us02web.zoom.us/j/81191930157?pwd=dGZkZkJmQ3pSTjVqbm5zQk5CaUVYdz09
Meeting ID: 811 9193 0157
Passcode: 559953
One tap mobile
+13017158592,,81191930157#,,,,*559953# US (Washington DC)
+13126266799,,81191930157#,,,,*559953# US (Chicago)
Dial by your location
+1 301 715 8592 US (Washington DC)
+1 312 626 6799 US (Chicago)
+1 929 205 6099 US (New York)
+1 253 215 8782 US (Tacoma)
+1 346 248 7799 US (Houston)
+1 669 900 6833 US (San Jose)
Meeting ID: 811 9193 0157
Passcode: 559953
Find your local number: https://us02web.zoom.us/u/kqbz4q5em