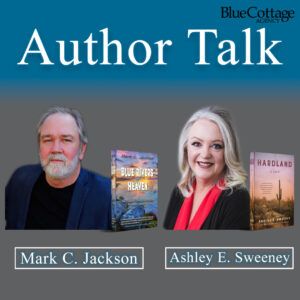 Author Talk with Mark C. Jackson and Ashley E. Sweeney
Join us for a LIVE Author Talk with Mark C. Jackson, author of "Blue Rivers From Heaven" and Ashley Sweeney "Hardland, Tuesday, September 27 at 7:00 p.m. CST, 5:00 p.m. PST, 6:00 p.m. MST, 8:00 p.m. EST. LIVE ON YOU TUBE!
"Blue Rivers from Heaven" (Five Star, September 2022) by Award Winning Author Mark C. Jackson:
"Framed for a murder he didn't commit, Zebadiah finds himself in a New Orleans prison cell next to Willie Dan, a cold-blooded killer, who insists they escape together. As Zeb refuses and is sent upriver to the swamps on a chain gang to build a road for the Hydras plantation, he is thrust into a conspiracy of confederates, whose efforts to build a golden circle of slave states from Texas, Louisiana and Georgia to Cuba are just beginning to take hold. Through brutal coercion, Zeb is forced back to New Orleans to assassinate General Sam Houston, future president of the new Republic of Texas. With the help of friends and foes alike, the assassination is thwarted but not without consequences, sending Zebadiah racing up the Mississippi River to the Lower Missouri and back to Anna, his one true love, before the murderer Willie Dan can reach her. Thus, comes to conclusion the trilogy of books, where Zebadiah Creed indeed finds redemption and forgiveness through a most unexpected way"–
"Hardland" (She Writes Press, September 2022)
by Award winning author Ashley Sweeney:Arizona Territory, 1899. Ruby Fortune faces an untenable choice: murder her abusive husband or continue to live with bruises that never heal. One bullet is all it takes. Once known as "Girl Wonder" on the Wild West circuit, Ruby is now a single mother of four boys in her hometown of Jericho, an end-of-the-world mining town north of Tucson. Here, Ruby opens a roadside inn to make ends meet. Drifters, grifters, con men, and prostitutes plow through the hotel's doors, and their escapades pepper the local newspaper like buckshot. An affair with an African American miner puts Ruby's life and livelihood at risk, but she can't let him go. Not until a trio of disparate characters—her dead husband's sister, a vindictive shopkeeper, and the local mine owner she once swindled—threaten to ruin her does Ruby face the consequences of her choices; but as usual, she does what she needs to in order to provide for herself and her sons.
Set against the breathtaking beauty of Arizona's Sonoran Desert and bursting with Wild West imagery, history, suspense, and adventure, "Hardland" serves up a tough, fast-talking, shoot-from-the-hip heroine who goes to every length to survive and carve out a life for herself and her sons in one of the harshest places in the American West.