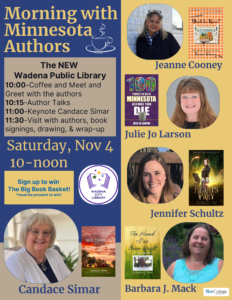 The Wadena Library will host "Morning With Minnesota Authors" Saturday, November 4 from 10:00 a.m. to 12:00 p.m. The event will feature Minnesota authors Candace Simar, "Abercrombie Trail Series";  Jeanne Cooney "It's Murder Dontcha Know";  Julie Jo Larson "100 Things to Do in Minnesota Before You Die"; Jennifer Schultz "Hearts of Prey": and Barbara J. Mack "The Hand I've Been Dealt".  The event will begin with coffee and a meet and greet with the authors followed by a 10:15 a.m. program featuring all five authors. Simar will provide the featured keynote at 11:00 a.m. All five authors are represented by the Blue Cottage Agency, representing authors from Minnesota and around the nation. The event is free and open to the public. All participants can sign up for a chance to win "The Big Book Basket", featuring books from other Blue Cottage Agency authors. The winner must be present to win.
Simar's historical novels include: "Follow Whiskey Creek", "Escape to Fort Abercrombie",  "Shelterbelts", "Blooming Prairie",  "Birdie", "Pomme de Terre", "Abercrombie Trail", "Dear Homefolks", "The Glory of Ordinary Time", and "Farm Girls". Her short stories have been published in the anthologies: "Spoilt Quilt"  "Librarians of the West"   and "Why Cows Need Cowboys. Simar is a Spur Award winner and Spur finalist from the Western Writers of America for her Abercrombie Trail series. "Shelterbelts" was a finalist in both the Willa Literary Awards in Historical Fiction and the Midwest Book Awards. "Escape to Fort Abercrombie" holds a Will Rogers Gold Medallion and a Peacemaker Award from Western Fictioneers. Simar's fifth book in the "Abercrombie Trail" series, "Sister Lumberjack", is set for release in 2024
Simar likes to imagine how things might have been. She combines her love of history with her Scandinavian heritage in historical novels that examine the early days of Minnesota and North Dakota. "I write historical novels to share painless history lessons about the fascinating and unique history of our region." Stated Simar.
Author Jack Koblas said Simar's books are "Endlessly fascinating…The ultimate 'I was there' book. I have read many books about Scandinavians coming to America in the turbulent 1860s, but thanks to author Candace Simar, this is the first time I was ever transported from my easy chair right into the book to experience it with them. The images of courage, cruelty, intolerance, discovery, and simple pleasures have stayed with me. This is one book I won't forget."
Cooney is the author of the popular "Hot Dish Heaven" mystery series: "Hot Dish Heaven",  "A Second Helping of Murder and Recipes" and "A Potluck of Murder and Recipes" all published by North Star Press. Her new series,   "It's Murder" Includes, "It's Murder Dontcha Know" with the second book set for release in 2024. Her books are set in the Red River Valley of northwestern Minnesota, home to an array of colorful, Scandinavian-Lutheran farmers. Along with an old-fashioned, make-believe, who-done-it, each story includes Midwest references, time-honored hot dish, Jell-O, and bar recipes, as well as a few Ole and Lena jokes. And while the books may be read as a series, they can stand on their own too.
Larson is the author of two books, "100 Things to do In Northwest Minnesota Before you Die" and "100 Things to do In Minnesota before You Die". She spent the last decade exploring the Minnesota and writing MsStorian Adventures. She lives in Brainerd and can be found on the trail with a walking stick in hand and word mukluks on her feet.
Schultz's supernatural thriller series, including "Hearts of Prey",  features main character Shaka Reed, an outsider, not only because she struggles to relate to her peers, but because she has a secret ability that sets her apart: she is a shape shifter. In the deep woods of her Northern Minnesota home, never does she feel more herself than when she is running through the forest on animal feet.
Mack is the author of "The Hand I've Been Dealt, My life with Epilepsy". The book shares her whimsical stories of family life and heartbreaking years' worth of medical challenges while educating and inspiring others to better cope with their own challenges.
The Wadena Library is located at 210 First Street SW. Autographed copies of books will be for sale at the event.