Brad Dennison is the author of the western series, The McCabes. He is currently at work on the next installment in the series.   His stories are about what it is like to live, to love, to win, and sometimes even to lose. No matter what type of story he is writing, he is always writing about people. He doesn't so much as write about the old west, he writes about what it might have felt like to be there.
He was born in rural New England, and at an early age was reading westerns, science fiction, and everything in between. Louis L'Amour, Luke Short, A.B Guthrie, Jr., J.R.R. Tolkien, Edgar Rice Burroughs. He knew at 14 this was what he wanted to do for a living, and refused to give up the goal even when the odds seemed overwhelmingly against it.  He is a member of the Western Writers of America. and currently resides in Georgia.
Brad loves contact from readers and welcomes discussion of his stories, the American West in general, or his writing. E-mail at bradley.a.dennison@gmail.com
Book 1: THE LONG TRAIL
The story of a family building a ranch in the rugged wilderness of post Civil War Montana, and of a young man seeking his family and his destiny. If you liked the movie OPEN RANGE or the TV shows BIG VALLEY and LANCER, or the novels of Louis L'Amour and Ralph Compton, then this might be for you. By the author of TREMAIN.
Reader Reviews:
"This really is a good story, well worth the time taken to
read. 

"
"Good story line, and one you do not want to put down, once you start reading it! 

"
"This was a good western, loved the people in this book and bought the next two in the series. anyone that likes westerners will enjoy . 

"
---
Book 2: ONE MAN'S SHADOW
Sequel to THE LONG TRAIL. Jack McCabe returns home to Montana from medical school, but the family finds he is not exactly who they thought he was. A story of one man attempting to find himself while living in the shadow of a father who is a living legend. And an old enemy of Johnny McCabe returns, looking for blood. A story of family, love and revenge, and of the redemption of the human spirit.
Reader Reviews:
"I look forward to reading further books from this
author. 

"
"Good story by a good storyteller. 

"
"This has all the aspects you would expect in a classical western, and a whole lot more. As well as a story of the west, it's a story about trying to find yourself. It's also a story of redemption, like the blurb reads. This story is definitely worth a read. "
---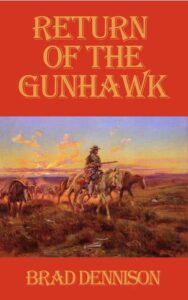 Book 3: RETURN OF THE GUNHAWK
Volume three in the McCabe saga. Johnny McCabe rides to California to visit the grave of his late wife, and to visit a brother he hasn't seen in 17 years. But everything with his brother is not as it appears. A story of the Old West, of family and friendship, and second chances. A story of burying the past and reaching for the future. A story of the McCabes.
Reader Reviews:
"This is a very clean, action packed, shoot um up western thriller with a fantastic story
line. 

"
"I want the next McCabe book. 

"
"Excellent development of the characters. 

"
---
Book 4: BOOM TOWN
Johnny McCabe brings his new bride to Montana, but finds things are not as he had left them. A gold rush is threatening to change the lives of everyone. Meanwhile, in Mexico, Dusty McCabe and the men riding with him discover Sam Middleton has been confined to a covert facility for political prisoners and enemies of the state. A place where prisoners go in, but they never leave alive. Can Dusty and the men with him break Sam
out without getting themselves killed in the process?
Reader Reviews:
"The 4th book of the McCabes is just as good and well written as the first. 

"
"Thank you Brad and please hurry on #5 I am champing at the bit! 

"
Krista Rolfzen Soukup
Publicist and Owner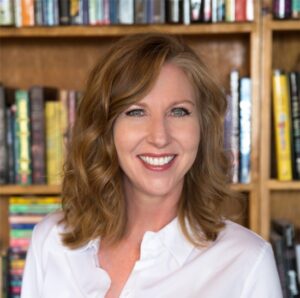 Blue Cottage Agency was founded by Krista Rolfzen Soukup in 2009. Krista is a literary publicist and Owner of Blue Cottage Agency.
"When I needed a publicist to help promote my book, The Lily of the West, I found there were quite a few available, but upon discovering the highly recommended  Krista Rolfzen Soukup and Blue Cottage Agency, there was no need to look further. Krista is reliable, creative, ethical and well connected. She personifies that elusive quality of being a straight-shooter who is kind and non-judgmental. She's been a tremendous help to me and I can't recommend her highly enough. Simply the best."
Author The Lily of the West, Five Star Publishing March 2019
Krista Rolfzen Soukup
Publicist and Owner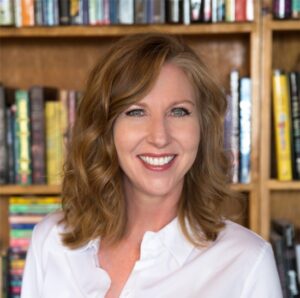 Blue Cottage Agency was founded by Krista Rolfzen Soukup in 2009. Krista is a literary publicist and Owner of Blue Cottage Agency.
"When I needed a publicist to help promote my book, The Lily of the West, I found there were quite a few available, but upon discovering the highly recommended  Krista Rolfzen Soukup and Blue Cottage Agency, there was no need to look further. Krista is reliable, creative, ethical and well connected. She personifies that elusive quality of being a straight-shooter who is kind and non-judgmental. She's been a tremendous help to me and I can't recommend her highly enough. Simply the best."
Author The Lily of the West, Five Star Publishing March 2019