Frank Weber is a forensic psychologist who has completed assessments for homicide, sexual assault, and domestic abuse cases.  His work has ranged from assessing murderers chained to the cement floor in the basement of a prison and assessing psychopaths to providing therapy for wealthy professionals who've engaged in multiple affairs.  He has testified as an expert witness in numerous sexual assault and homicide cases, written seven different treatment workbooks, and in 2015 published a training series for psychologists which has been accredited by the MN Board of Psychology.  He has received the President's Award from the Minnesota Correctional Association for his forensic work, and recently received an award for excellence in his clinical work. Frank Weber has used his unique understanding of how predator's think, victim trauma, and actual court cases to create a thrilling mystery.   
Available for Book Talks, Presentations and Book Clubs. Contact Blue Cottage Agency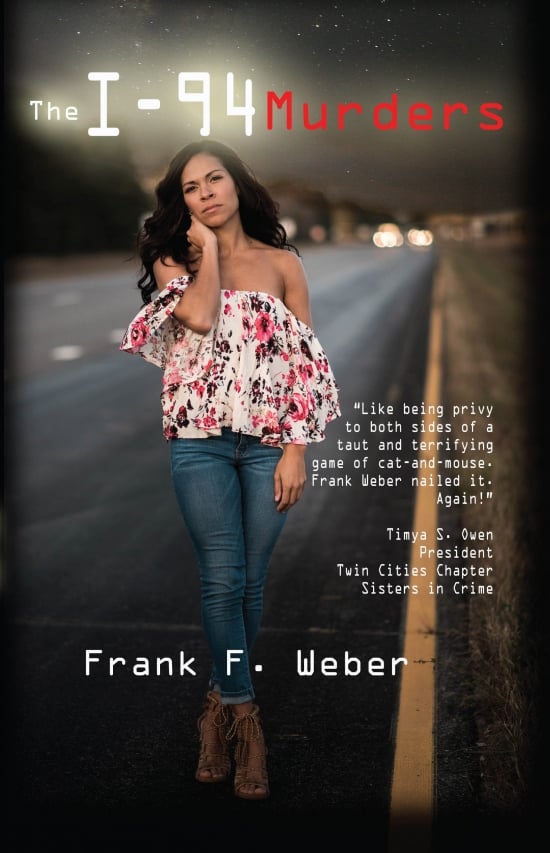 THE I-94 MURDERS (North Star Press, 2018)
A tryst of bondage. A lover's murder.
Investigator Jon Frederick returns in a search to uncover the identity of a killer creeping through communities along I-94 in Minnesota, targeting couples who store their fetish photos online. The killer taunts Jon with hidden messages embedded in local media that lead him to Sonia, a young woman with a terrible secret. A fast-paced thriller based on the profile of a true-life serial murderer, The I-94 Murders guides the reader with an insider's light along the dark road of the killer.
murder book (n): the twenty-first century term for a cold case where a homicide is suspected.​
Jon Frederick spent his adolescence protecting his mentally ill brother and worrying about his parents' farm as it headed toward bankruptcy. So when Mandy Baker, the alluring new girl in town, pursued him, he was easily enamored. But on the day he ended their tryst, Mandy vanished. There is no doubt in the small Minnesota town of Pierz that the flirtatious girl is dead, and there is little doubt that Jon got away with murder.
​A decade later, Jon is made an investigator with the Bureau of Criminal Apprehension. While investigating a case near his hometown, Jon quietly reopens the murder book on Mandy Baker and begins to see commonalities between Mandy's disappearance and his new case. Digging up the past raises intriguing possibilities with an old friend, Serena Bell—but also forces them to work through old betrayals. As the investigation intensifies, Jon realizes he has crossed paths with the killer before.
Reviews
A convincing piece of fiction that pulls you into a heart-breaking human experience with unpredictable and jolting twists. It leaves you feeling frustrated as you experience the nonchalant arrogance of the sinister characters and plots. The author's rants grant a slight reprieve from these edgy and erratic feelings.
Krista Rolfzen Soukup
Publicist and Owner
Blue Cottage Agency was founded by Krista Rolfzen Soukup in 2009. Krista is a literary publicist and Owner of Blue Cottage Agency.
"When I needed a publicist to help promote my book, The Lily of the West, I found there were quite a few available, but upon discovering the highly recommended  Krista Rolfzen Soukup and Blue Cottage Agency, there was no need to look further. Krista is reliable, creative, ethical and well connected. She personifies that elusive quality of being a straight-shooter who is kind and non-judgmental. She's been a tremendous help to me and I can't recommend her highly enough. Simply the best."
Author The Lily of the West, Five Star Publishing March 2019