Jeanne Cooney is the author of the popular Hot Dish Heaven mystery series: Hot Dish Heaven (2013), A Second Helping of Murder and Recipes (2014), and A Potluck of Murder and Recipes (2016), all published by North Star Press. Her new series, It's Murder, kicks off in March 2022 with the release of It's Murder, Dontcha Know.
Cooney's books are set in the Red River Valley of northwestern Minnesota, home to an array of colorful, Scandinavian-Lutheran farmers. Along with an old-fashioned, make-believe, who-done-it, each story includes Midwest references, time-honored hot dish, Jell-O, and bar recipes, as well as a few Ole and Lena jokes. And while the books may be read as a series, they can stand on their own too.
Jeanne Cooney is a highly sought speaker for conferences, libraries, community gatherings, and organization fundraisers, where she offers her humorous take on life in the Midwest. She and her off-beat mystery books have been featured on television and radio as well as in newspapers and magazines throughout the region. Minnesota Public Radio named Cooney one of a handful of Minnesota-based mysteries authors to read. "What makes this book so fun is Cooney's ability to spit out phrases such as 'uff-da' and dish out recipes such as Jell-O Salad and Tater-Tot Hot Dish faster than you can say, 'Yah, ya betcha,'" said Mpls-St. Paul Magazine of Hot Dish Heaven. And Midwest Book Review said of A Potluck of Murder and Recipes, "It's another terrific and original mystery from the pen of Jeanne Cooney and once again documents her complete mastery of the genre."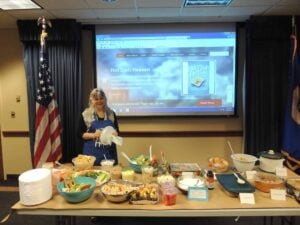 Jeanne Cooney is also an artist in residence through the Northwest Minnesota Arts Council. She is available to teach creative writing, with an emphasis on humor, to high school classes and community education groups. Cooney's books are widely enjoyed by cooks, mystery buffs, and those who appreciate Midwest humor. She delights in participating in numerous book group discussions across the country. When asked about her success, Cooney says, "My books aren't likely to prompt discussions about the meaning of life, but they might make you laugh. And in reading them, you may discover a recipe or two that you want to try. That alone will make me pretty darn happy, don't ya know."
Jeanne Cooney is available to present to Book Clubs, Groups, Organizations! Contact us to book Jeanne!