Kacey Ruegsegger Johnson,
Author, Speaker, Survivor.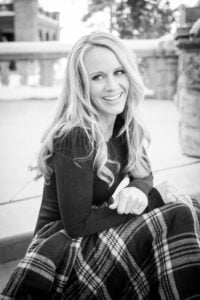 A survivor of the savage 1999 attacks at Columbine High School, uses her message of faith and resilience to inspire hope in the face of diverse challenges in her book Over My Shoulder A Columbine Survivor's Story of Resilience, Hope and a Life Reclaimed. (April, 2019)
Wife, mother, spokesperson for the importance of tissue donation, and Columbine High School shooting survivor, Kacey Ruegsegger Johnson has spent nearly two decades coming to terms with the haunting reality of April 20, 1999. Her journey to healing, the truth and wisdom that comes along with navigating PTSD during motherhood, and how others can "survive to thrive" are shared within the pages of her new book, Over My Shoulder. As the 20th anniversary of Columbine High School shooting nears, Johnson is more determined than ever to use her turbulent journey of healing and awareness to help others make the choice as to how their past traumas will influence their future life. When not speaking publicly about her journey of healing or mentoring other trauma survivors, Johnson can be found cherishing a "new normal" with husband Patrick and their four children in the beautiful state of North Carolina. Visit her website at https://kaceyruegseggerjohnson.com/
About the Book: On April 20, 1999, Kacey Ruegsegger Johnson was a newly transferred junior at Columbine High School. As she sat down to read a magazine in the school library, she had no idea she was about to find herself at the center of an American tragedy, an event that would forever change the course of her life and many others. Moments later, two student gunmen entered the building to continue the massacre they had already begun outside. A now famous photograph shows Kacey lying on the ground in the aftermath of the attack, in danger of bleeding to death and losing an arm. Columbine quickly captured the soul of a nation and left it deeply scarred.
The devastating injuries Kacey sustained in the Columbine shooting followed a year of adolescent struggles – a year in which she suffered through the sudden deaths of four friends, a deep depression, and a plan for her suicide. In this story of courage and resilience, Kacey recounts how she overcame the physical, emotional and spiritual suffering of these events to build a life, a family, and a loving home. Through sharing her story, she has discovered a surprising path to helping and encouraging others.
 Praise for Over My Shoulder:   "I'll never forget a plane ride in April, 2007, as I flew to Blacksburg, Virginia, to speak to the shell-shocked students at Virginia Tech, who were trying to come to terms with the deaths of 32 classmates and faculty members at the hands of a shooter. I was wearing a neck brace after a rollover accident, and wondering what I could possibly say to bring comfort. It was on that flight that I met Kacey Ruegsegger and heard her story. Eight years before, she had been shot by a gunman at Columbine High School, and survived serious injuries. If I was nervous, she was terrified. Shy by nature, Kacey faced not only the fear of public speaking, but also the trauma of reliving her own encounter with a mass murderer. Yet she agreed to come along because she was one of the few people who knew what the Virginia Tech students were going through. In the years since, Kacey has gained the courage to speak on a variety of topics. Her parents saw her through a dark, stormy period of her adolescence–and that was before Columbine. She went on to become a nurse, a career she had to abandon because of her disability. She got married and somehow forged a "new normal" as a wife and mother of four. She became a national spokesperson for tissue donation, a medical procedure that may have saved her life. And now, in this book, Kacey tells the whole story with a wisdom beyond her years. For any struggling adolescent, for any distraught parent, for anyone who has endured trauma or grief–in other words, for any of us–this book offers insight and hope that we, too, can not only endure, but thrive."
~ Author Philip Yancy, International Bestselling Author of twenty-two books, including Soul Survivor
Title: OVER MY SHOULDER: A Columbine Survivor's Story of Resilience, Hope, and a Life Reclaimed
Author: Kacey Ruegsegger Johnson
ISBN: 978-1-7336516-0-8
Price: $16.00
Publisher: OMS, LLC
In spring 1999, Kacey Ruegsegger was a shy seventeen-year-old living with her family in Littleton, Colorado. Having survived the deaths of several close friends the previous year, followed by a devastating depression, Kacey hoped that transferring to a new school would be the fresh start she needed. And so she found herself at Columbine High School.
Nothing could have prepared Kacey and her family for the events of April 20, 1999, when two teenaged gunmen entered the school and initiated a bloodbath that would shock the world and forever scar a nation.
Trapped in the library when the shooting began, Kacey hid under a table with only a chair to protect her. Moments later, she was shot at close range, her shoulder bones reduced to dust and hand severely injured. Minutes later, she fled the school with fellow survivors, in shock and at risk of bleeding to death. Through the heroic efforts of an exceptional doctor and his team, Kacey survived and was given the gift of donated bone and tissue to rebuild her shoulder, arm, and hand. So began an arduous recovery for her body and soul.
Refusing to let this horrific event define her life, Kacey chose a path of hope and healing. She pursued a career in nursing, married the love of her life, and started a family. Through triumphs and setbacks, Kacey remained determined not to let the evil that scarred her prevail. Sending her children to school in the era of Sandy Hook was one of the hardest things she had ever done, but Kacey knew she could not raise her family in fear.
Now, twenty years after the devastation of Columbine, Kacey shares her inspiring story with audiences across the U.S., as a speaker and an author. She lives in North Carolina with her husband, Patrick, and their four young children.
Krista Rolfzen Soukup
Publicist and Owner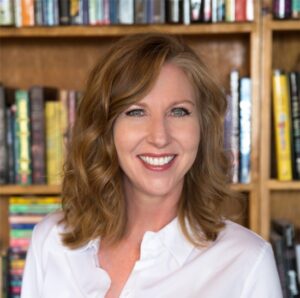 Blue Cottage Agency was founded by Krista Rolfzen Soukup in 2009. Krista is a literary publicist and Owner of Blue Cottage Agency.
"When I needed a publicist to help promote my book, The Lily of the West, I found there were quite a few available, but upon discovering the highly recommended  Krista Rolfzen Soukup and Blue Cottage Agency, there was no need to look further. Krista is reliable, creative, ethical and well connected. She personifies that elusive quality of being a straight-shooter who is kind and non-judgmental. She's been a tremendous help to me and I can't recommend her highly enough. Simply the best."
Author The Lily of the West, Five Star Publishing March 2019
Krista Rolfzen Soukup
Publicist and Owner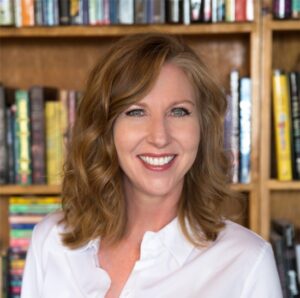 Blue Cottage Agency was founded by Krista Rolfzen Soukup in 2009. Krista is a literary publicist and Owner of Blue Cottage Agency.
"When I needed a publicist to help promote my book, The Lily of the West, I found there were quite a few available, but upon discovering the highly recommended  Krista Rolfzen Soukup and Blue Cottage Agency, there was no need to look further. Krista is reliable, creative, ethical and well connected. She personifies that elusive quality of being a straight-shooter who is kind and non-judgmental. She's been a tremendous help to me and I can't recommend her highly enough. Simply the best."
Author The Lily of the West, Five Star Publishing March 2019