Along the Western Colorado horizon, resting just above the late summer prairie grasses and yucca plants what seemed like white puffy clouds gradually gave way to the rugged, snow-capped Rocky Mountains. And the country boy from Missouri would never be the same again. Those mountains and the vast prairies before them would burn a love of the American West deeply into the heart and soul of Phil Mills, Jr.
Phil's first novel, "Where a Good Wind Blows" touches on the emotions and sensations of someone seeing this land for the first time. This honest and exciting story set in the late-1800s in Eastern Wyoming would win a Spur Finalist Award for Best 2010 Western Audio book from the Western Writers of America. This same book is also available in paperback, hardback/large print and in eBook and Kindle formats.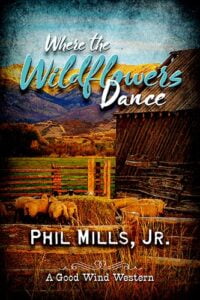 Phil recently finished the sequel to "Where a Good Wind Blows" with the completion and soon to be published "Where the Wildflowers Dance". And the third book in his "Good Wind Western Series" is currently being written with a working title of "Where Cold the Waters Run".
The first of Phil's three children's books entitled "Scooter, the Cow Dog" was published in 2016 to critical acclaim. Set in South Central Texas it was illustrated by talented Western Artist Michael Melson. Phil's second children's book entitled, "Mud Between My Toes" was recently published and is set in Oklahoma. It was illustrated by talented artists Robert Brooks and Cindy Smith. And his third children's book, entitled "Bandit, the Cow Dog" is currently being illustrated for release later this year.
Phil is staying busy by also working on a book of short stories, a book of inspirational poetry, and an exciting new novel entitled, "The Laramie Letter". Phil, whose grandfather Oscar Mills grew up in Montana and rode at times with the famous Western artist Charles M. Russell, is also an avid fan of professional rodeo and in 2016 attended the Chad Nicholson Rodeo Announcer Seminar in Fort Worth, Texas. Then he spent the summer of 2016 and the early spring of 2017 announcing rodeos in Bandera, Texas, "Cowboy Capital of the World", along with barrel racing events in Georgia and Alabama.
Phil is an active member of the Western Writers of America (WWA) and the Booth Writers Guild (BWG) in association with the Booth Western Art Museum in Cartersville, GA. He also holds memberships in the Oregon-California Trails Association (OCTA), Women Writing the West (WWW), and the Montana Historical Society. Phil is also a lifetime member of the Custer Battlefield Historical and Museum Association (CBHMA). His experience includes being a small town newspaper editor, farm magazine editor, and work with two major advertising/public relations agencies. Phil has traveled to many parts of the world, but keeps coming back to write about the American West.
Today, Phil Mills, Jr., lives just outside Gainesville, GA, along the shore of beautiful Lake Sidney Lanier. The North Georgia Mountains are not far away which provide a quiet setting for his writing and the simple lifestyle he enjoys. He has two married daughters and four awesome grandchildren. Life is good! You can also find him on Facebook, Twitter and Instagram.
Krista Rolfzen Soukup
Publicist and Owner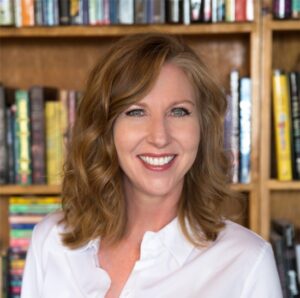 Blue Cottage Agency was founded by Krista Rolfzen Soukup in 2009. Krista is a literary publicist and Owner of Blue Cottage Agency.
"When I needed a publicist to help promote my book, The Lily of the West, I found there were quite a few available, but upon discovering the highly recommended  Krista Rolfzen Soukup and Blue Cottage Agency, there was no need to look further. Krista is reliable, creative, ethical and well connected. She personifies that elusive quality of being a straight-shooter who is kind and non-judgmental. She's been a tremendous help to me and I can't recommend her highly enough. Simply the best."
Author The Lily of the West, Five Star Publishing March 2019
Krista Rolfzen Soukup
Publicist and Owner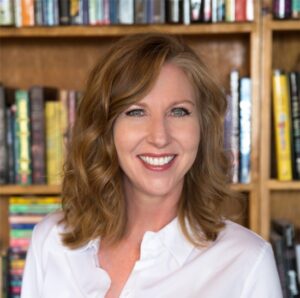 Blue Cottage Agency was founded by Krista Rolfzen Soukup in 2009. Krista is a literary publicist and Owner of Blue Cottage Agency.
"When I needed a publicist to help promote my book, The Lily of the West, I found there were quite a few available, but upon discovering the highly recommended  Krista Rolfzen Soukup and Blue Cottage Agency, there was no need to look further. Krista is reliable, creative, ethical and well connected. She personifies that elusive quality of being a straight-shooter who is kind and non-judgmental. She's been a tremendous help to me and I can't recommend her highly enough. Simply the best."
Author The Lily of the West, Five Star Publishing March 2019