Award Winning author of The Pursuit of Murieta  and West of Penance. Born and raised in San Diego, California, Thomas D. Clagett grew up with television shows like Have Gun Will Travel, Wanted: Dead or Alive, and Rawhide, as well as The Andy Griffith Show, I Love Lucy and The Twilight Zone. He still enjoys them in reruns today.

At an early age he discovered that putting stories on paper became as much of a favorite pastime as watching movies. Soon they became his passions.
After graduating from the University of Southern California with a degree in Journalism in 1978, he got his first job running the copy machines at Mary Tyler Moore Productions. Shortly thereafter, he moved into film editing, spending nearly twenty years as an assistant film editor in motion pictures and television. His credits include Jack Nicholson's The Two Jakes, the NBC mini-series Blind Faith, and a 35th Anniversary edition of Woodstock.

However, Tom did find the opportunity to write, combining that with his love of films. He began work on a non-fiction book about the films of William Friedkin, the Academy Award-winning director of The French Connection and The Exorcist. Daily Variety called Tom's book, William Friedkin: Films of Aberration, Obsession and Reality, "Exhaustive and perceptive…more than that, it's a fun read." Classic Images hailed it as "the definitive work on the subject." First published by McFarland & Company in 1990, an updated second edition was released in 2003 by Silman-James Press to terrific reviews.

Writing fiction was always a goal of Tom's, too. His first historical fiction novel, The Pursuit of Murieta, won a Will Rogers Medallion Award for Honorable Mention. West of Penance, his second novel, set in the wilds of New Mexico Territory in 1874, is a New Mexico Book Award winner.

Tom's free-lance articles have appeared in New Mexico magazine, Santa Fean magazine and the Santa Fe New Mexican newspaper. He's also a member of the Western Writers of America.

Tom lives in Santa Fe, New Mexico, with his wife, Marilyn, and their cat, Cody, whom they are home schooling with great success.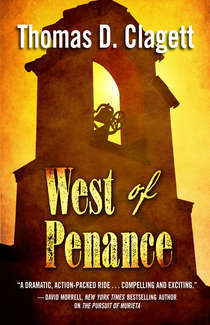 2016 New Mexico – Arizona Book Award Winner
"Archbishop Lamy's story inspired me to write West of Penance. A few years ago, I heard a startling true tale of old New Mexico from a friend of mine, Monsignor Jerome Martinez y Alire. He said that the newly appointed bishop of the diocese of Santa Fe, Jean-Baptiste Lamy, didn't care for the small adobe church in the center of Santa Fe when he arrived there in 1851. He envisioned a large cathedral, like those in his native France, to serve as the mother church of this southwest archdiocese that covered an area roughly the size of present day New Mexico, Arizona, and part of southern Utah. It had taken Lamy nearly twenty years to raise the funds to begin construction. But cost overruns and delays constantly plagued him."
~Thomas D. Clagett
Krista Rolfzen Soukup
Publicist and Owner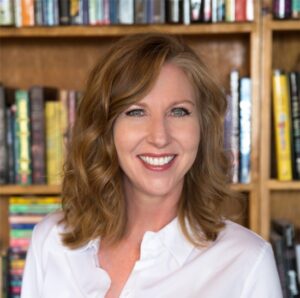 Blue Cottage Agency was founded by Krista Rolfzen Soukup in 2009. Krista is a literary publicist and Owner of Blue Cottage Agency.
"When I needed a publicist to help promote my book, The Lily of the West, I found there were quite a few available, but upon discovering the highly recommended  Krista Rolfzen Soukup and Blue Cottage Agency, there was no need to look further. Krista is reliable, creative, ethical and well connected. She personifies that elusive quality of being a straight-shooter who is kind and non-judgmental. She's been a tremendous help to me and I can't recommend her highly enough. Simply the best."
Author The Lily of the West, Five Star Publishing March 2019
Krista Rolfzen Soukup
Publicist and Owner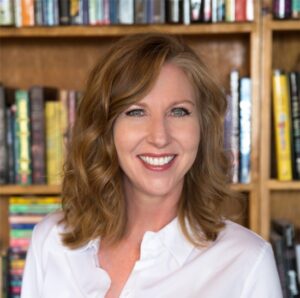 Blue Cottage Agency was founded by Krista Rolfzen Soukup in 2009. Krista is a literary publicist and Owner of Blue Cottage Agency.
"When I needed a publicist to help promote my book, The Lily of the West, I found there were quite a few available, but upon discovering the highly recommended  Krista Rolfzen Soukup and Blue Cottage Agency, there was no need to look further. Krista is reliable, creative, ethical and well connected. She personifies that elusive quality of being a straight-shooter who is kind and non-judgmental. She's been a tremendous help to me and I can't recommend her highly enough. Simply the best."
Author The Lily of the West, Five Star Publishing March 2019