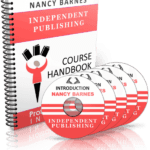 Do you know how to publish and still keep your rights and all of the royalties? My friend and fellow-faculty member Nancy Barnes just released her new course this week! Independent Publishing with Profitable Authors Institute.
Whether you're a FICTION OR NONFICTION AUTHOR, her four-part course on independent book publishing answers will show you how to be in full control of your book's content, cover and profits.
CLICK HERE to watch her FREE INTRODUCTORY VIDEO!
Instructor: Nancy Barnes
Introduction: Nancy Barnes, founder of Stories To Tell and a pioneer in self-publishing, guides you through the world of independent publishing. Learn the ins and outs of producing a professional, commercial book that can compete with traditional publishing, and how to sell, distribute, and market while keeping all the rights and profits.
Class I: What You Need to Know About the Process of Self-Publishing. You can successfully navigate the steps of the self-published author's journey. Learn how to make a book project plan, create, edit, design, publish, and market. (Includes a free download to plan out each step of your book project.)
Class 2: Protect Your Rights and Keep Your Royalties. Self-publishers own it all: the copyright, the ISBN, and the Library of Congress registration, as well as the book and cover design files. Learn how to publish using your own name or your choice of publishing imprint. You'll also discover how to earn the most money from book sales, without sacrificing any profits to a publisher.
Class 3: Book Distribution: Getting Your Books into the Right People's Hands. What's the best way to reach your potential readers? Explore the advantages of print on demand through online bookstores, eBook sales, and direct sales methods. Learn how self-publishers sell to bookstores and libraries, and use the support of catalogs, directories, and distribution centers to expand their reach.
Class 4: Maximizing Your Profits by Self-Publishing.  Increase your profits through thoughtful planning and the decisions you can only control as a self-publisher. Learn how to design and print books at the least cost, how to set the book's retail and wholesale prices, and how to make smart deals with resellers. Explore opportunities for additional profits when selling niche books to targeted audiences.

Nancy Barnes is the founder and managing editor of Stories To Tell. She help authors to self-publish with her team of editors, book designers, publishers and book marketers. Nancy has been an award-winning teacher of literature and writing, working the National Writing Project at UC Berkeley. Then she fell in love with graphic design. She created StoriesToTellBooks.com in 1998 to specialize in the design and publishing of complex illustrated books, such as family histories, memoirs, children's books, business and academic texts, in addition to general fiction and nonfiction. Her specialty is working with authors at every step, even from the draft phase. Nancy has been a national speaker about the process of publishing. Her book, Stories To Tell: An Easy Guide to Self-Publishing Family History Books and Memoirs, outlines the process of planning, producing, and publishing an illustrated book. Nancy and her husband, Biff Barnes, live in the Washington DC area. As managing editors they evaluate manuscripts, offer consulting, and coordinate the steps of the authors' book project, employing editors, designers, marketers, printers, and distributors. To get in touch with Nancy, please go to www.StoriesToTellBooks.com